Press Release
United Nations congratulates the people and Government of Timor-Leste on the anniversary of the Restoration of Independence Day
19 May 2021
The message of the UN Resident Coordinator Roy Trivedy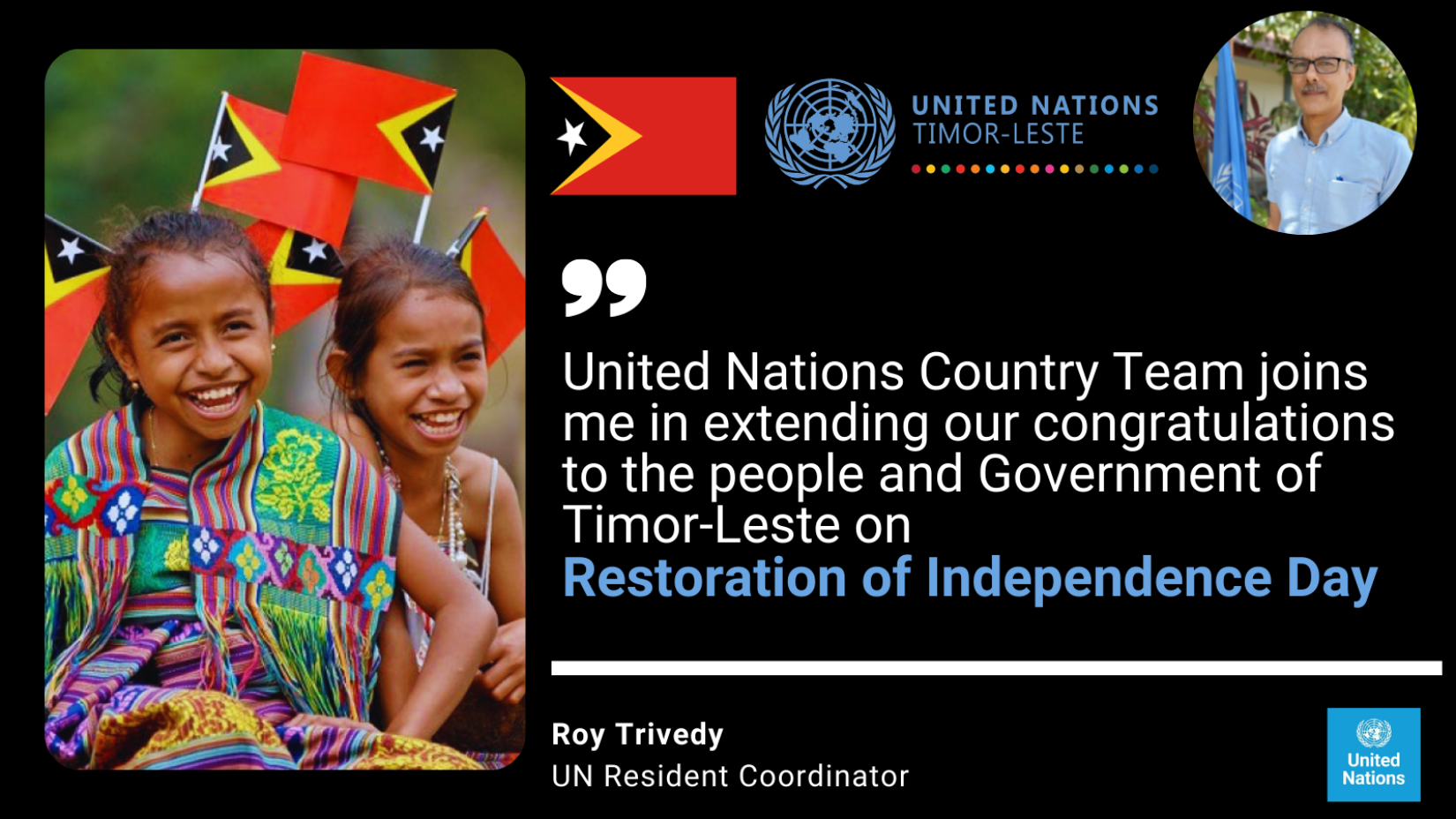 Today we mark the 19th anniversary of the day the people of Timor-Leste took control of their country ('kaer rasik kuda talin') and charted the course of their future.
With extraordinary effort and determination, the East Timorese people rebuilt their nation, consolidated peace, ushered in an era of peace, development and human rights, and became an inspiration to many other nations. Roads, homes, schools, livelihoods and public institutions were established. The first country to re-gain independence in the 21st century, Timor-Leste has matured and contributed to global peace, development, and security over the past 19 years while also safeguarding the welfare of its citizens.
The United Nations has played a significant role in supporting the democratic process and sustainable development in Timor-Leste. We are proud to have stood side by side with the people of Timor-Leste in their most challenging moments and to have helped lay the foundations for a prosperous and democratic future.
On behalf of the UN Country Team, I present our tribute to the people of Timor-Leste for their courage and perseverance, which you have all shown on the path to re-gaining independence. Today's independence day is a day of pride for all.
The United Nations will continue to support the people and Government of Timor-Leste through these difficult times - caused by COVID-19 and the floods. Together with the Government, the people of Timor-Leste, and all friends of the country, the UN will also continue to strive for a better, more sustainable future for all.
Wishing all a happy Restoration of Independence Day.
Long live Timor-Leste!
United Nations congratulates the people and Government of Timor-Leste on the anniversary of the Restoration of Independence Day
UN entities involved in this initiative
RCO
United Nations Resident Coordinator Office