Timor Leste Floods: UN Situation Report No. 9 (As of 21 May 2021)
Latest official figures (19 May) showed that a total of 33,835 households have been affected by the floods across the country.
Since the declaration of a state of calamity in Dili on 8 April, the Government continues to lead the flood response.
To date, the Secretariat of State for Civil Protection has provided food and non-food items to 12,197 flood-affected households across all 13 municipalities.
In solidarity with the Government, the humanitarian partners and donors have provided relief assistance worth over USD 10.73 million to date.
According to the Secretariat of State for Civil Protection, 1,743 people remain temporarily displaced in 13 evacuation centers across Dili.
For the affected communities to be able to transition to recovery, the residual humanitarian needs – particularly of those who continue to be temporarily displaced and other vulnerable groups – need to be addressed as a matter of priority. • To this end, the Government, with support from the UN and other humanitarian partners, is finalizing a Floods Response Plan/Joint Appeal, which is expected to be launched next week.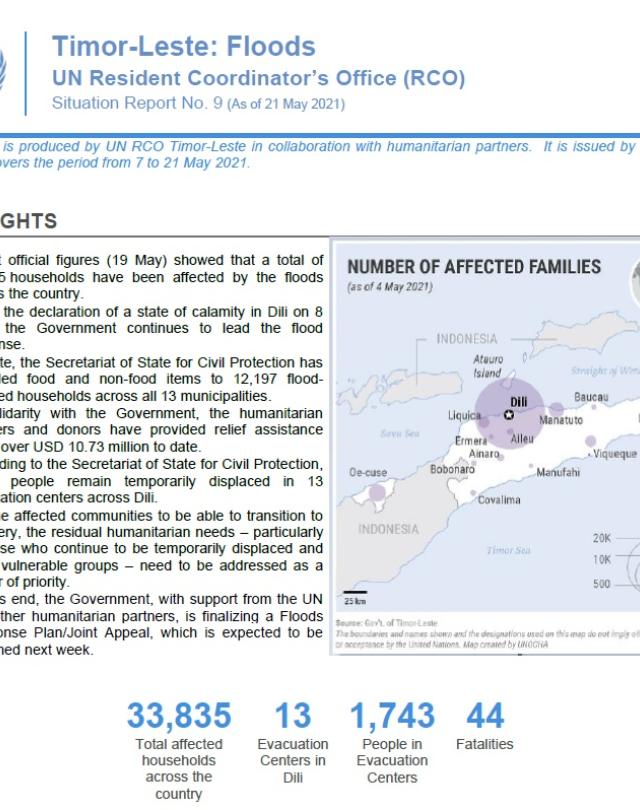 Goals we are supporting through this initiative