Story
ASPIRING TO MAKE A 'BIG LEAP' IN TIMOR-LESTE'S DEVELOPMENT: THE VITAL ROLE OF GENDER EQUALITY AND WOMEN'S EMPOWERMENT AND WHY WE NEED TO ACT NOW!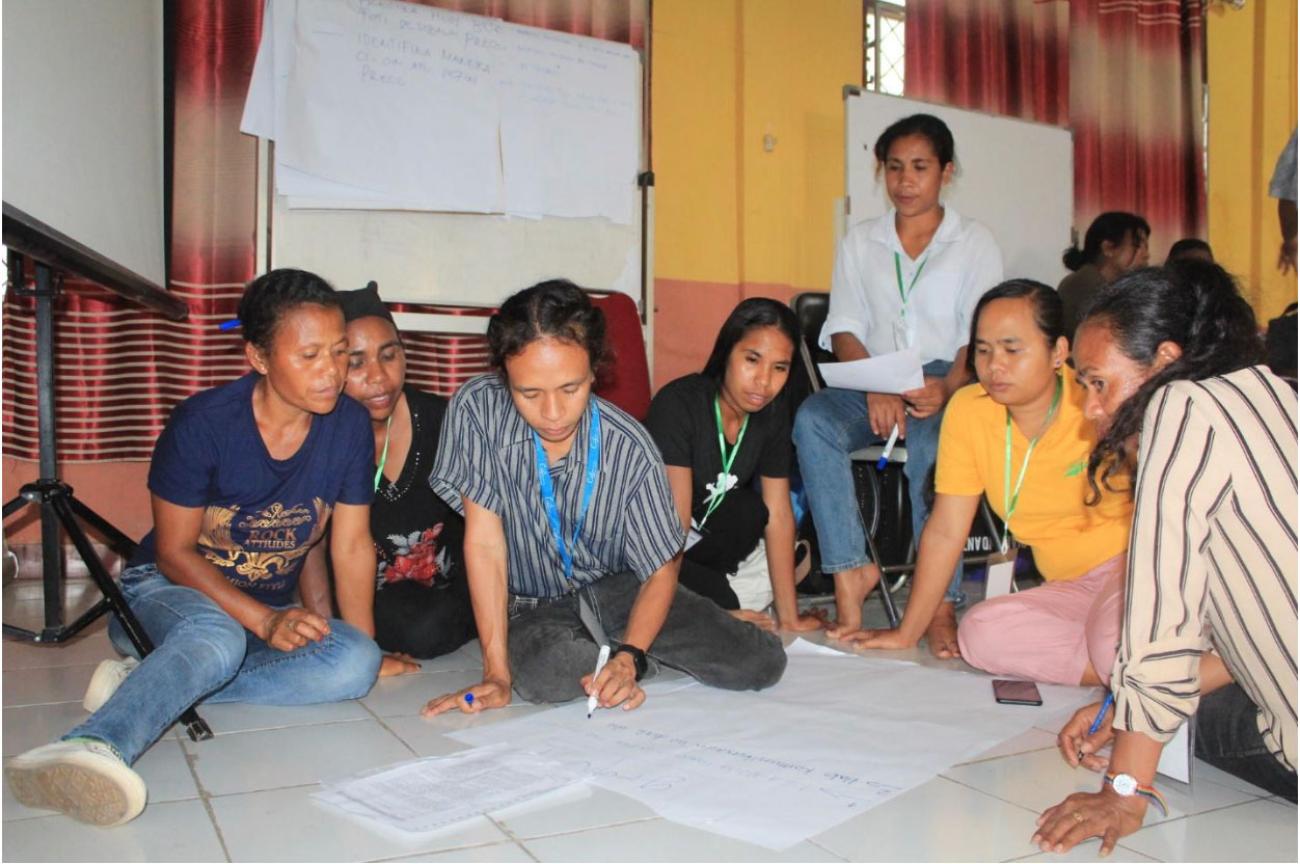 Blog by UN Timor-Leste Resident Coordinator Roy Trivedy & UN Women Head of Office Nishtha Satyam
Since the restoration of independence on 20 May 2002, Timor-Leste has made considerable progress on socio-cultural, political and economic rights. However, the post-COVID-recovery in the wake of higher food and energy prices caused by the war in Ukraine has compounded existing gender inequalities making it imperative to centre stage women and girls to build back better. It is also clear that the country needs to maximise all its resources (human, financial, environmental and knowledge) and assets to achieve better outcomes for all, including children, the LGBTIQ persons, the elderly, and the disabled. 
Despite a strong commitment to equality in Timor-Leste, violence against women and girls (VAWG) remains pervasive, with estimates from 38% to 59% of women experiencing violence in their lifetime. The 2019 Voluntary National Review (VNR) on the Sustainable Development Goals (SDGs) indicates that the VAWG is a significant structural barrier to the country's development. In his inauguration speech, newly-elected HE President Jose Ramos Horta emphasised the importance of gender equality and women's empowerment as a fundamental prerequisite for inclusive national development and building a resilient democracy. 
Timor-Leste has already made significant progress in addressing inequalities through legislation, policy development, institutional mechanisms, and raised public awareness. The second National Action Plan on Gender-based Violence, pending approval from the Council of Ministers, commits to ending gender-based violence through a multi-sectoral, comprehensive and coordinated approach. The NAP GBV has been developed following the national laws and international commitments of the Convention on the Elimination of Discrimination against Women (CEDAW), the International Convention on the Civil and Political Rights (ICCPR), the International Covenant on Social and Economic Rights (ICSER) and the Convention on the Rights of the Children (CRC). Timor-Leste has adopted the Women's Economic Empowerment Strategy and National Social Protection Policy as fundamental policies that complement women's agency. However, the national development plan (the SDP) recognises that more remains to be done and establishes several critical priorities.
Furthermore, the draft Second NAP GBV is supported by findings of an assessment from the preceding NAP, whereby more significant action is needed to audit the gendered impact of legislative changes on the development and well-being of women. Recognising women in their multiple and intersectional socio-economic and political identities is also imperative. It would be good to know, for example, the representation of women's voices in the design of the Cesta Basica programme, the $200 levy on poorer households, the push to reduce malnutrition in the country and the Bolsa de Mae Generation Foun. 
While we are looking at how women's participation and empowerment can be further championed in Timor-Leste, we must build on the good progress that has been achieved. Currently, Timor-Leste has one of the highest rates of women parliamentarians in the world and the highest in the Asian/Pacific region. The President of the National Parliament promulgated a new Village (Suco) Law in July 2016 to have at least one woman per Suco as Suco Chief. We must ensure now that the upcoming elections leverage the momentum the country has built on to prepare communities, especially aspiring women representatives. For effective implementation of policies, further strengthening the capacity of the national women's machinery and various ministries are vital, as also emphasised through the recently revised National Action Plan of Gender-Based Violence (NAP GBV). 
Violence against women and girls is one of the most widespread, persistent and devastating human rights violations today. It is a significant obstacle to fulfilling women's and girls' human rights and achieving the 2030 Agenda for Sustainable Development. The United Nations in Timor-Leste remains committed to working with the Government to address the long-term impact of the pandemic and addressing existing structural barriers to gender equality through multiple interventions, including EU-UN Spotlight Initiative and Equality for All initiatives, among others. Led by the Government and together with partners, we will continue responding to all forms of VAWG, with a particular focus on domestic and family violence, sexual and gender-based violence, harmful practices, femicide, trafficking, and all forms exploitation in line with the 2030 Agenda for Sustainable Development and the principle of 'leaving no one behind.'
It would also be essential to acknowledge that gender inequality has deep socio-cultural roots and manifests in non-linear ways. Therefore, it will require a coordinated, comprehensive, multi-sectoral and lifecycle approach. Which essentially means a Whole of Government, womb to tomb approach. 
It is time to consider setting up a National Women's Empowerment Fund with a 20-year plus timeline because the piecemeal approach has not worked so far. Additionally, we urgently need to focus on three key areas – implementation of legislation, social protection, and gender-responsive financing: 
Laws are already there. Weaker implementation is a barrier. If the State is able to ensure the implementation of these laws, this will ultimately improve the protection of women and girls, leading to the upholding of women's rights. 
A long-term social protection scheme will provide effective mechanisms to reduce the vulnerabilities of women and girls, leading to their empowerment and participation. 
Gender-responsive budgeting  is a critical part of the Public Financial Management agenda and will improve the social and economic situation of women and girls by ensuring a fair allocation of resources
With a gender-champion leadership at the helm of affairs in the country and in the context of Timor-Leste's bid for a bigger and better global repositioning and expansion of the economy, we have a historical opportunity to include women and girls in the much-needed sustainable economic diversification and leverage Timor-Leste's interest for regional integration, while leaving no woman and girl behind. If there was ever a better time to promote gender equality agendas and incorporate gender perspectives throughout the wide range of challenges we confront in Timor-Leste and the Pacific region, it is now!
-END-
UN entities involved in this initiative
RCO
United Nations Resident Coordinator Office
UN Women
United Nations Entity for Gender Equality and the Empowerment of Women