Story
In Timor-Leste, an integrated campaign aims to pull up routine immunization and COVID-19 vaccinations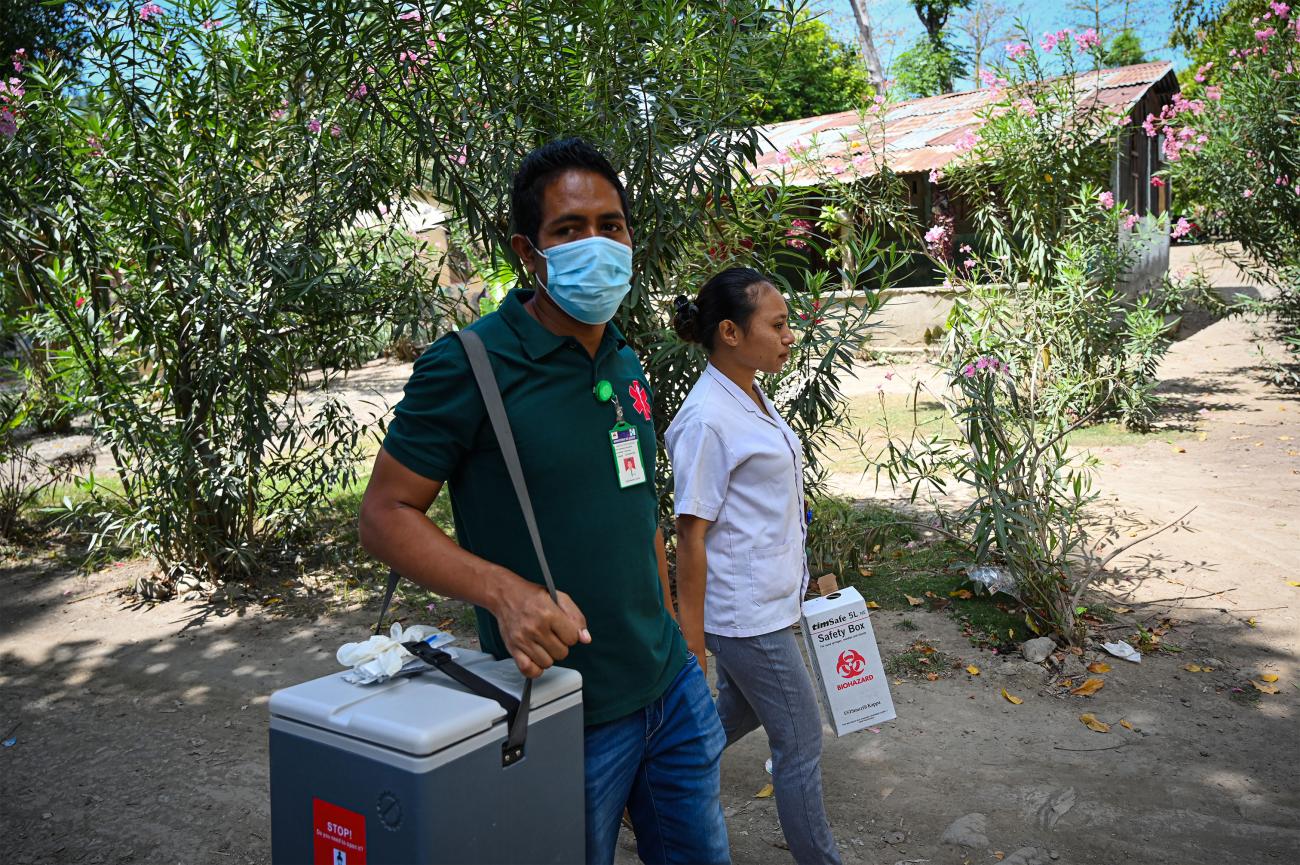 On the morning of August 25, Dediana Da Santos, a 27-year-old nurse with the Ministry of Health starts her field visit in Beto Tasi, a tiny neighbourhood in Timor-Leste's capital city Dili. Another nurse, 30-year-old Celestino Sarmento, accompanies her. The duo, armed with a vaccine carrier and a register, walk around the neighbourhood, stopping at one house after another. They ask two crucial questions each time. Is there a child in the household who has missed any of the routine immunization? Is there an adult in the house who is yet to get COVID-19 vaccination, first shot, second shot or booster? 
The COVID-19 pandemic disrupted health systems and programmes globally. Routine immunization activities also took a substantial hit. In order to recover from this impact, Timor-Leste has implemented a unique strategy by integrating COVID–19 vaccination with routine immunization. Put simply, health workers like Santos have been tasked with carrying both COVID-19 vaccines and routine immunization vaccines such as BCG, Oral Polio Vaccine, Hepatitis B, Measles Rubella, among others during their outreach activities and door to door visits. The two-pronged approach allows health workers to target children less than 5 years for routine immunization and those above 12 years for COVID-19 vaccination. 
Santos and Sarmento interact with Suzzana Fernandes Da Costa, a resident of Beto Tasi and check her vaccination status and that of her 10-month-old daughter. Picture credit WHO Timor-Leste/Cirilo  
"At times, it is difficult to convince the adults to get themselves and their children vaccinated," said Santos. "But we are now trained in turning them around. If someone refuses any of the vaccines, we keep going back to them to explain the health impacts," she said.
Timor-Leste started the integrated approach in July 2022. Health workers from all the municipalities, Community Health Centers (CHCs) and health posts were oriented in a three-day workshop to strategize and plan the roll out.
"With the same group of health care providers targeting different age groups with different vaccines, we are not only optimizing resources, but we are also increasing our coverage of COVID-19 vaccination and routine immunization," said Dr Arvind Mathur, WHO representative to Timor-Leste. 
Da Costa gets her second shot of COVID-19. Picture credit WHO Timor-Leste/Cirilo  
In Timor-Leste, an estimated 24% children missed out on the routine vaccines in 2021, as all the immunization workforce was repurposed for COVID-19 related work including COVID-19 vaccination. The same trend continued in the first half of 2022. Worryingly, cases of measles, an acute respiratory illness with symptoms like fever and rash, began to surface from several parts of the country, highlighting the need to boost the routine immunization coverage.
On the other hand, with decreasing COVID-19 cases, the COVID-19 vaccination too slowed down as it became difficult to convince people to take the shots. As of September 14, 2022, Timor-Leste had administered 1,797,994 COVID-19 doses with nearly 89% coverage in the eligible population. 
Da Costa's 10-month-old daughter gets the Measles Rubella (MR) vaccine which she had missed. Picture credit WHO Timor-Leste/Cirilo  
"Achieving the last mile coverage is always difficult," said Dr T. S. R Peiris, technical officer, Expanded Program on Immunization (EPI), WHO Timor-Leste.  "With the integrated approach, we hope to push the coverage as much as possible by reaching out to the population that has missed any of the vaccines," he said.
To strengthen the efforts, WHO has also deployed international immunization consultants in 13 out of the 14 municipalities across the country. A series of orientation and training sessions have been conducted for the consultants as well as other staff from Ministry of Health for the seamless implementation of the integrated programme. 
UN entities involved in this initiative
WHO
World Health Organization