Story
Improving women's health through a cervical cancer screening facility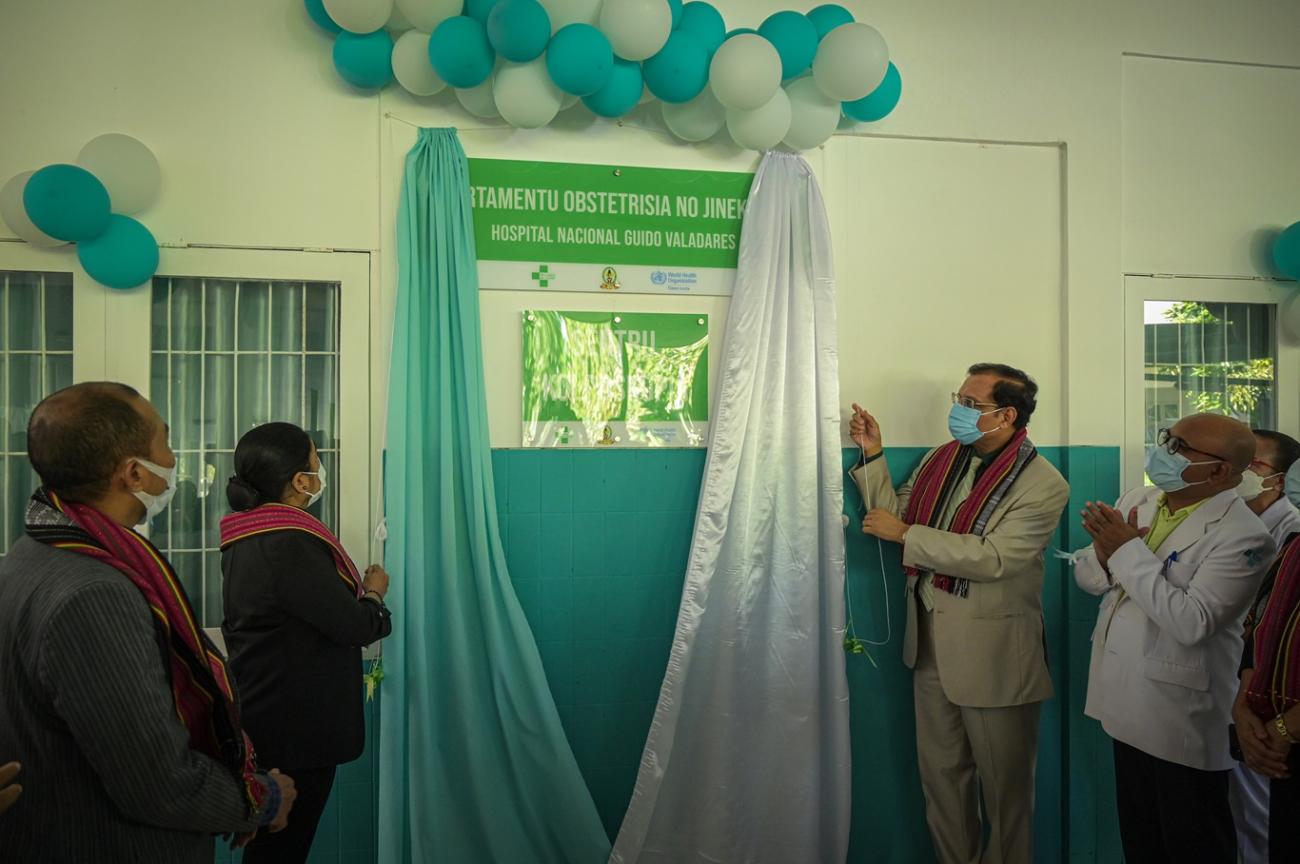 Ann Liza Gabat (41) strongly believes in preventive care.
Last month when she learned about the cervical cancer screening available at the Hospital Nacional Guido Valadares (HNGV) in Dili, she promptly visited the health facility. On August 18, Gabat underwent the Visual Inspection with Acetic Acid (VIA), a simple naked-eye examination of the cervix conducted by a health worker after application of diluted acetic acid. The result, given to her within a few minutes, was negative for any precancerous lesions or cancer.
"I am relieved," said Gabat. "I will continue screening at regular intervals, because it is important," she added. 
Ann Liza Gabat (41) at the Hospital Nacional Guido Valadares (HNGV) in Dili. WHO Timor-Leste/Jyoti Shelar 
Gabat is among the 160 women who have undergone the VIA screening since the Treatment Centre for Pre-Cancerous Cervical Lesions opened in HNGV in June 2022 with technical and financial support from the World Health Organization. The Centre consists of a VIA screening facility, a colposcopy facility and is also equipped to conduct the thermal ablation procedures for early-stage cancers or precancerous lesions. 
Out of the 160 women, about nine were suspected for precancerous or cancerous lesions and advised to undergo colposcopy. The colposcopy procedure involves a healthcare provider taking a closer look at the cervix with the help of a microscope attached with a light (colposcope).
Of the nine women, four were detected with cervical cancer and were directed further for appropriate treatment and care.
Pascoal de Aranjo Pinto, in-charge of the Treatment Centre for Pre-Cancerous Cervical Lesions, said that the screening is offered twice a week and an average of eight women turn up at the facility on the scheduled days.
"We want more women to come forward for the screening," said Pinto. "There is definitely a need for advocacy on the ground. Women need to know that they must not wait for any symptoms to get screened. Cervical cancer screening is recommended for women between 25 to 65 years, with or without any kind of symptoms," he added. 
dr. Odete Maria Freitas Belo, Minister of Health and Dr. Arvind Mathur, WHO representative to Timor-Leste inaugurate the Treatment Centre for Pre-Cancerous Cervical Lesions at HNGV in Dili on 2 June 2022. WHO Timor-Leste/Cirilo
Cervical cancer is the second most common cancer among women in Timor-Leste with 50 new cases (12.5 per 100,000 women) and 24 deaths (6.2 per 100,000 women) in 2018, according to a UNFPA country review document. The review also stated a prediction that a total of 3,494 women in Timor-Leste will die from cervical cancer by 2070 and 13,166 by 2120.
Almost all cervical cancer cases (99%) globally are linked to infection with high-risk human papillomaviruses (HPV), an extremely common virus transmitted through sexual contact. Therefore, WHO is in the process of implementing multi-pronged strategies not just directed towards screening for early detection and treatment of cervical cancer but also for preventing the disease.
"In addition to HNGV, the WHO is working with the Ministry of Health to start cervical cancer screening centres in five other referral hospitals in Timor-Leste," said Dr. Arvind Mathur, WHO representative to Timor-Leste. "By 2023, the WHO with support from Gavi, the vaccine alliance, will also start HPV vaccination for 11-year-old girls as a school-based programme. Efforts are also on to introduce HPV DNA testing as a part of the cervical cancer screening programme," he said adding that WHO has also trained 13 doctors and other healthcare providers to conduct VIA screening, colposcopy and thermal ablation procedures at HNGV and five other referral hospitals.
The efforts by WHO Timor-Leste are in alignment with the WHO's global strategy to accelerate the elimination of cervical cancer as a public health problem adopted during the 73rd World Health Assembly in 2020. The strategy aims proposes that 90% of girls are fully vaccinated with HPV vaccine by age 15 years, 70% of women are screened with a high-performance test by 35 years of age and again by 45 years of age, and 90% of women identified with cervical disease receive treatment. 
UN entities involved in this initiative
WHO
World Health Organization