Story
Improving quality of life of lymphatic filariasis patients through follow-up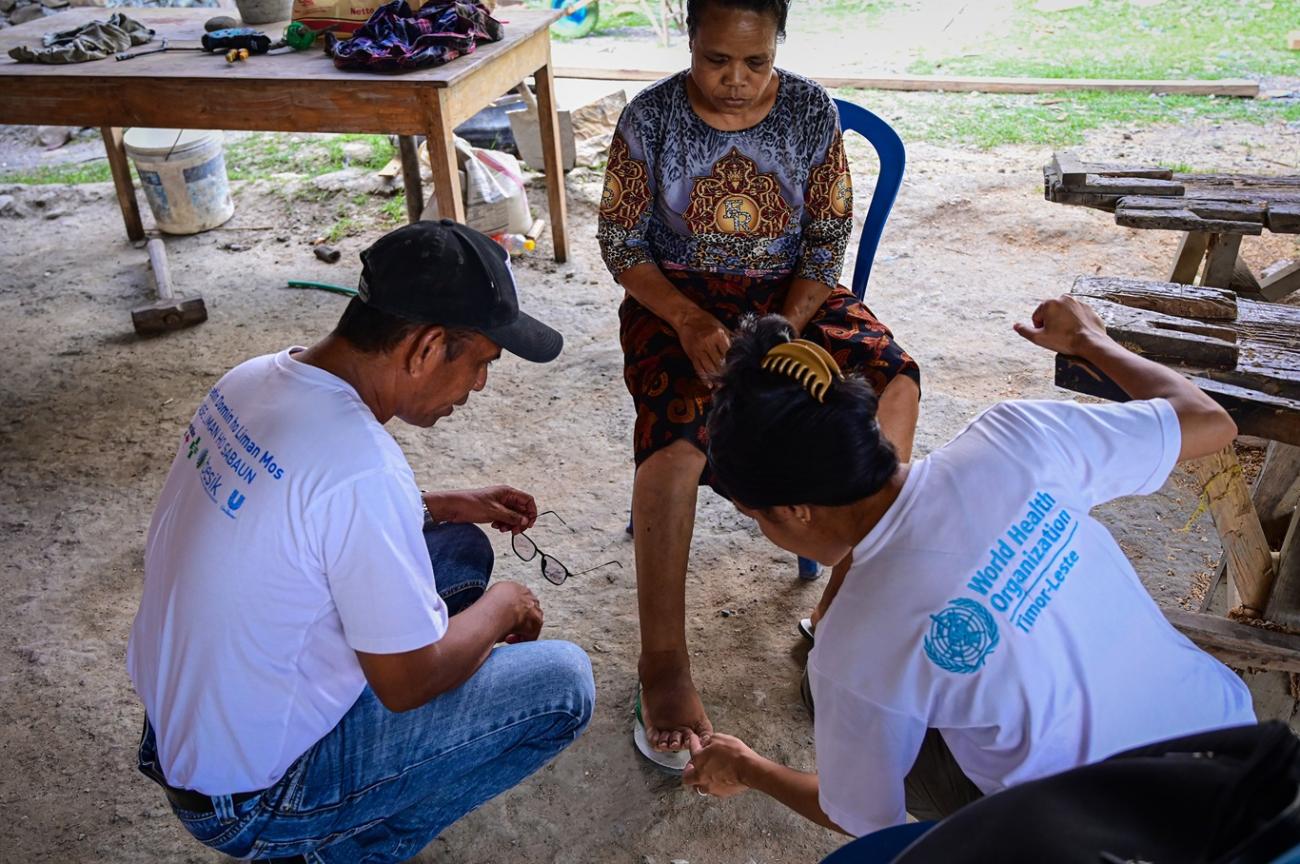 Eighty-one-year-old Fernando Ximenes, a lymphatic filariasis (LF) patient, went about his daily chores without sensing any pain.
In the last week of October, the farmer based in Viqueque district of Timor-Leste, had a visit from a health team following up known LF patients for Morbidity Management and Disability Prevention (MMDP). When one of the healthcare workers began cleaning his left leg, he found a one-inch metal thumb tack lodged into his foot. 
"I didn't feel it all this while," Fernando told the health worker who pulled out the metal pin and cleaned the wound. "I don't know how long the nail was lodged there," he added. 
Eighty-one-year-old Fernando Ximenes during the Morbidity Management and Disability Prevention (MMDP) follow up on 26 October 2022. WHO Photo/Cirilo
LF, commonly known as elephantiasis, is a neglected tropical disease (NTD) caused by infection with parasites classified as nematodes (roundworms). The infection occurs when filarial parasites are transmitted to humans through mosquitoes. Usually, the infection is acquired in the childhood, but its lasting impact occurs in adults who not only struggle with physical disability, but also stigma and poverty.
Fernando was diagnosed with LF when he was 39-year-old. In the records of the Ministry of Health's NTD team, Fernando is described as a stage 2 patient with swelling in both lower limbs below the knee. He is also suffering from loss of sensation due to the swelling. During the follow up, the health team assessed his condition, told him about alleviation exercises to reduce the swelling and provided tips on wound care and hygiene along with some medication and ointments. 
Members of the WHO and MoH team examine a patient during the seventh round of MMDP follow up held between 25 October to 10 November 2022. WHO Photo/Cirilo 
Timor-Leste has 435 confirmed LF patients who are currently on follow-up. The country has not detected a new LF case since 2019, and it has set focus on eliminating the disease by adopting two strategies under the WHO's Global Programme to Eliminate Lymphatic Filariasis (GPELF)- stopping the spread of infection through large-scale annual treatment of all eligible people in an area or region where infection is present; and alleviating the suffering caused by lymphatic filariasis through provision of the recommended essential package of care. 
"The WHO country office in Timor-Leste has been providing the required technical support to the Ministry of Health to strengthen their measures to eliminate LF as well as all other NTDs in the country," said WHO representative Dr Arvind Mathur. "We will continue these efforts on a war-footing," he said adding that the country signed the Kigali Declaration on NTDs on 13 June 2022 attesting its commitment toward the cause. 
Timor-Leste has emphasized on stronger surveillance to identify new cases of LF and every municipality has a focal point to provide health services including the Morbidity Management and Disability Prevention (MMDP) service. 
For patient's like Ximenes, the MMDP service helps in reducing acute episodes of pain and fever, managing the swelling, and remaining active despite if the physical discomfort. 
"MMDP is a crucial part of the programme as it improves the quality of life of the known LF patients," said Dr Debashish Kundu, technical officer (communicable diseases), WHO Timor-Leste. "This is the seventh follow-up round for MMDP and overall monitoring of the programme in the country. Teams consisting of WHO and MoH staff are covering several municipalities to reach out to as many patients as possible," he said.
UN entities involved in this initiative
WHO
World Health Organization