Story
Timor-Leste: Targeting soil transmitted infection, one deworming tablet at a time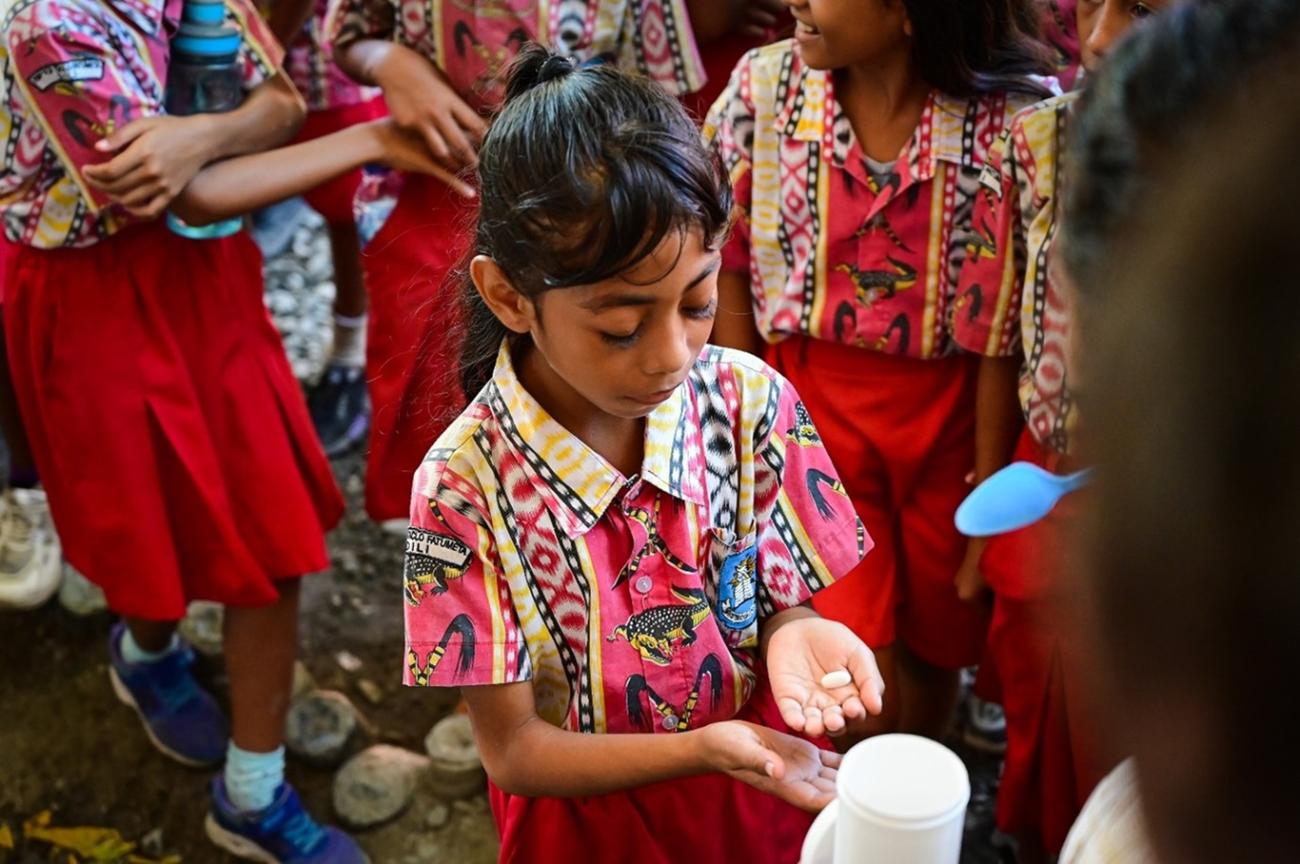 A day after a Mass Drug Administration (MDA) drive was held at the EB Alpha Primary School in Timor-Leste's  capital city Dili, seven-year-old Rizky Martins Pinto, a grade one student, passed a long worm. "It looks like a snake," Rizky told his father that morning.
Rizky is among the 90,000 school aged children who received the deworming tablet albendazole during the three week long MDA drive that covered three municipalities and 251 schools in October 2022. The drive targeted soil transmitted helminths (STH), the intestinal worms that infect humans through contaminated soil  and are associated with anemia, malnutrition, growth and cognitive impairment, and decreased productivity among children. 
Rizky Martins Pinto (7). WHO Photo/ Emilia
"Rizky had a poor appetite since very long time, but I can already feel that he is eating well since the deworming," said Rizky's father Octavio Pinto. "I am sure that his health will benefit further, and he will become more active in school," he said adding that the worm Rizky passed was almost 15 cm long. Many of Rizky's schoolmates had similar stories to tell. The school's coordinator Liliana Maria Gaio said that the "worms" have been a topic of discussion among the children since the deworming drive. "With so many children passing worms, it is evident that the infection is widespread, and the deworming drive definitely seems to have helped," said Gaio adding that the parents were informed about the drive in advance through a letter. "We told them about the benefits of the deworming tablet," she said. 
Rizky with his father Octavio Pinto. WHO Photo/Emilia 
STH infection is one of the neglected tropical diseases (NTDs) with high prevalence in Timor-Leste. A national level parasite survey carried out in 2012 had estimated the prevalence of STH ranging between 4% to 55% in various municipalities of the country. The Ministry of Health with support from the World Health Organization has conducted several rounds of MDA to reduce the prevalence. A large-scale Transmission Assessment Survey (TAS) conducted between 2020-2021 showed that the prevalence of STH ranged between 2% to 50% in various areas. 
"The high prevalence of STH remains a cause of concern," said Dr Arvind Mathur, WHO representative to Timor-Leste. "Over the past few years, we have intensified our efforts to support the Ministry of Health and tackle these infections through various programmes. The latest MDA drive was held under the school health and nutrition programme called Say No To 5S," he said. 
The  Say No to 5S programme aims at improving the health and nutrition of Timorese children by tackling Starvation, Soil-transmitted Helminthiasis, Skin diseases, Smoking and Sugary/Alcoholic Drinks. The project, a collaboration between WHO and the World Food Programme (WFP), is funded by the Korean International Cooperation Agency (KOICA). 
These efforts undertaken in Timor-Leste are important considering that nearly 47 percent of children under five years of age in the country are stunted, 8.6 percent suffer from acute malnutrition, and 23 percent of women of reproductive age (15 -49 years) are anaemic, according to data collated by the WFP.
Distribution of deworming tablets at a primary school in Fatumeta in Dili during the MDA drive in October 2022. WHO Photo/Cirilo 
According to Dr Mathur, the WHO will continue to plan MDA drives over the coming months, especially in areas with high prevalence of STH and other NTDs that can be curbed through preventive chemotherapy. MDA (also referred to as preventive chemotherapy) is one of the WHO's recommended strategies to control and eliminate several NTDs. The other strategies include individual case management, vector control, veterinary public health and water, sanitation, and hygiene (WASH).
UN entities involved in this initiative
WHO
World Health Organization