Speech
People Centered Sustainable Development - Leaving No-One Behind
NATIONAL CONSULTATION ON THE SECOND VOLUNTARY NATIONAL REVIEW OF THE IMPLEMENTATION OF SDGS IN TIMOR-LESTE, 2023 (VNR 2.0)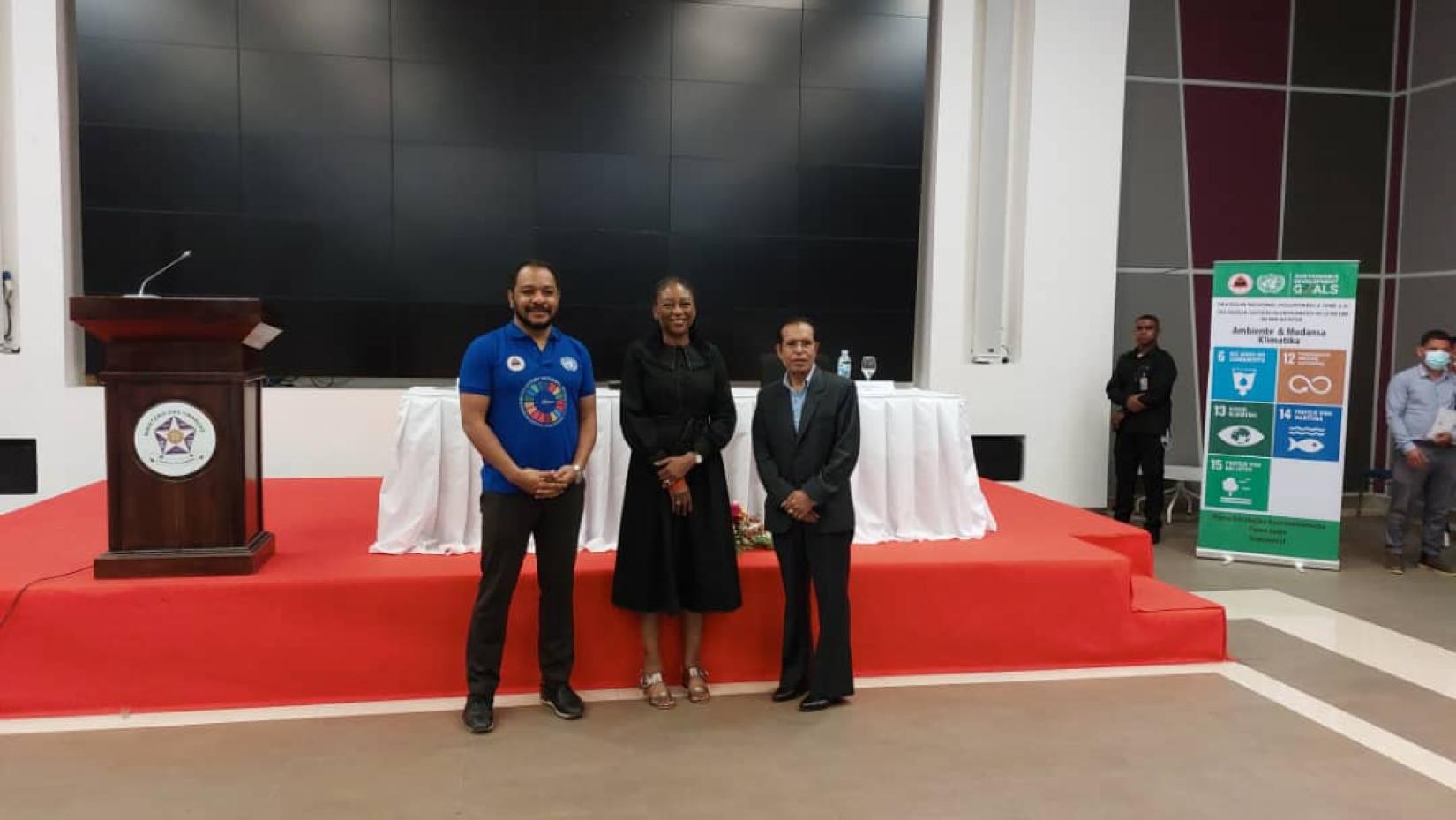 "PEOPLE CENTERED SUSTAINABLE DEVELOPMENT -LEAVING NO-ONE BEHIND"
Remarks
by
Ms. Funmi Balogun
United Nations Resident Coordinator in Timor-Leste
24 January 2023
Auditorium Xanana Gusmao, Ministry of Finance, Dili, Timor-Leste
Your Excellency, Prime Minister
Honorable Minister Maghalaes,
Representatives from government ministries and agencies, National Assembly, development partners, UN agencies, NGOs, and other organizations;
Distinguished participants,
It is an honor to attend this workshop to kick off Timor-Leste's 2nd  SDG Voluntary National Review (VNR) on behalf of the UN in Timor-Leste.  Let me congratulate Timor-Leste for being one of 42 countries globally selected to present their VNR at the High-Level Political Forum in New York in July 2023.
As we are at the half-way point of Agenda 2030, the SDGs, and United Nations Sustainable Development Cooperation Framework 2021-2025, the 2023 VNR is extremely significant: to review and learn from SDG progress, build "whole-of-society" momentum and inclusive dialogues on how to solve challenges and identify concrete actions to sustain and accelerate SDG progress.
This is also an opportunity to look forward and discuss where Timor-Leste wants to be in 2030, especially as the world tries to turn the pandemic's dark page, it has been hit by a number of interlinked global crises and we are facing challenges on a scale completely new to us.
We were still grappling with the aftermath of Covid-19 when the war in Ukraine unleashed energy, food, and cost-of-living crises of unprecedented severity and scope. The triple planetary crisis of climate breakdown, biodiversity loss and pollution is gaining strength in face of inadequate management.
This all means an uncertain, uneven and slower than anticipated recovery, with significant accumulated social deficits.  
So are the SDGs still relevant, one might ask? The answer is definitely and undeniably yes.
Seven years on, and despite major setbacks, the SDGs remain our North Star. They are more valuable than ever and cannot afford any further delays. A VNR helps us understanding where we are on the implementation of the SDGs.
Ladies and Gentlemen
Your first VNR was historic and was conducted in the year of the 20th anniversary of the referendum that restored independence. Your first VNR told the story of Timor-Leste to the world, the story of Timor-Leste's reconciliation, reconstruction, and commitment to 2030 agenda for sustainable development.
It celebrated the incredible progress this young nation has made, and the country's commitment to reconciliation, inclusion, and democracy. However, crucially, the review was also frank about the huge challenges facing the country. Challenges of enough jobs for young people, the need for economic diversification and climate resilience and tackling malnutrition [updated as needed].
Your first VNR was honest about the choices facing the country and changes that were needed to sustain the important gains you have made, but also to accelerate in areas where progress was lagging.
The report put data and evidence at the heart of your review and included a statistical annex, which was an important symbol of transparency and accountability. And the process held consultations with a diverse group of organisations and individuals, including, I remember a passionate youth consultation
The expectations for the second VNR are much greater, and the process to develop it has never been more important. Let me explain how:
First, the second VNR is expected to be more analytical and in-depth. It should go beyond updating data to provide more rigorous analysis and debate on the key issues facing the country. This may include issues such as on energy security, social protection, universal healthcare, quality education, inequalities, climate change, environmental pollution, and development financing. The VNR can help spotlight these issues for intensive discussions on where to prioritize action for greatest impact, especially to make a difference in the lives of the most vulnerable people to "leave no one behind." Analyzing financing gaps and better understanding where investments need to me made is crucial to create spill-over effects for SDG acceleration. The second VNR is also a timely opportunity to assess Timor-Leste's changing context and adjustments that need to be made.
Second, the second VNR is expected to be more inclusive and comprehensive to engage more stakeholders (including NGOs, the private sector, and beneficiaries) to  deepen understanding of the SDGs, benefit from diverse perspectives, and mobilize urgent collaboration. This creates a unique space for Timor-Leste to engage in a comprehensive dialogue with the 'whole of society' and 'whole of government' and to create stronger partnerships for SDG acceleration.
Finally, the second VNR is expected to consist of quality data and evidence from a variety of sources including government and non-government. The VNR development process creates a valuable chance to both look back in reviewing data and evidence to monitor SDGs, as well as to look forward in discussing what should be improved. What we learned from experience in other countries is the importance of timely, quality, and disaggregated information from different sources that allow for in-depth analysis, especially on who is being left behind. Creating platforms for sharing and accessing SDG information which are open and accessible to different stakeholders including NGOs is crucial and urgently needed.
Dear friends,
The UN in Timor-Leste has the honor and mandate to support the VNR development in Timor-Leste. I would like to thank the government for enthusiastically welcoming the UN cooperation and contribution to this process.
We supported the VNR development in 2019 and committed to support the development of this second VNR 2023, particularly in meeting the above requirements.
I wish today's discussion successful to shape the VNR development and get the most out of this review.
Thank you.
Speech by
UN entities involved in this initiative
RCO
United Nations Resident Coordinator Office