Story
Timor-Leste's rising cigarette prices, access to cessation centres prompt smokers to quit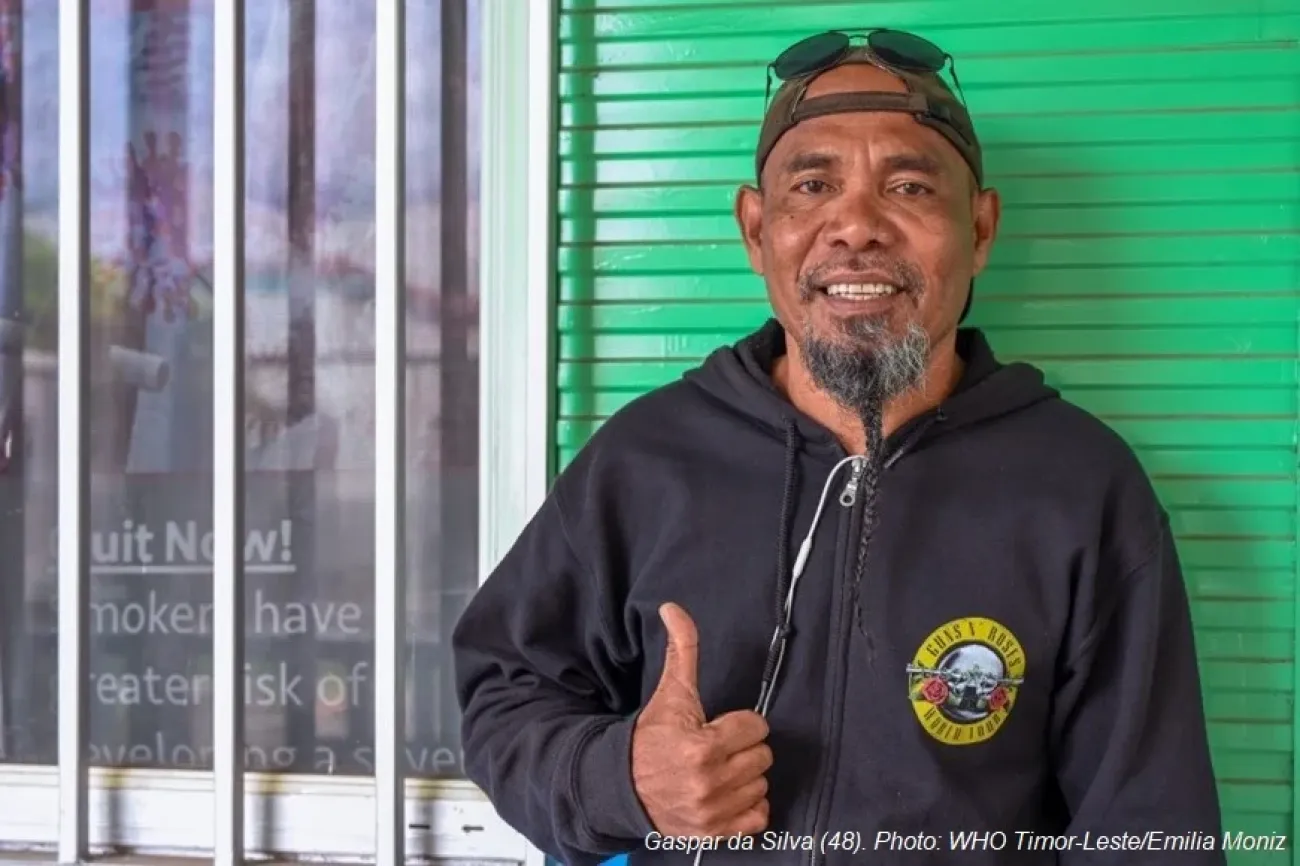 Since December 2022, Gaspar da Silva, 48, has not smoked. The resident of Dili, Timor-Leste, had been a smoker since he was 18.
However, with the rising cost of cigarettes and concerns about his health, he began to consider quitting. Last December, Gaspar came across a banner promoting a tobacco cessation center, which prompted him to make a visit.
"After I registered at the center, a counselor spoke to me at length about my smoking habit, noted down the history, and prescribed nicotine gums for a week," said Gaspar, who visited the Formosa Cessation Clinic in Dili. The clinic, under the Ministry of Health, is the first WHO-supported cessation center to open in October 2021. Timor-Leste today has four such WHO-supported cessation centers.
During his follow-up visit, Gaspar was prescribed the nicotine gums for three weeks, and thereafter for one month. He has had six follow-up visits till date. "Initially, I would require one strip of nicotine gums in a day, but my craving has gradually reduced," said Gaspar, who now consumes one strip in two to three days.
Nicotine gums, patches, lozenges, or nasal sprays are prescribed as a part of Nicotine Replacement Therapy, that helps smokers attempting to quit.
Gaspar, a freelance artist, started smoking because it was "trendy". "There were so many advertisements on television about smoking. It just seemed to be a cool thing to do. All my friends smoked too," he said, recalling how he walked to high school and saved the money his parents gave for the public transport to buy cigarettes.
A healthcare worker interacts with a young man at the Tobacco Cessation Centre in Formosa Health Centre in Dili. This WHO supported cessation center opened in 2021. Photo: WHO Timor-Leste
Two decades ago, the brand of cigarettes Gaspar smoked cost around $1 for a pack of 20. Today, it costs $3.50, and Gaspar smoked two packets a day. "On days when I was meeting my friends, I smoked four to five packs. It became an expensive habit due to the increasing price," he said.
To reduce the use of tobacco, WHO's Framework Convention on Tobacco Control endorses the strategy of making tobacco products less affordable through increased taxation. In Timor-Leste, which has one of the world's highest smoking rates, the excise tax on tobacco was increased by 163% in January 2022 from $19/kg to $50/kg. In January 2023, the tax was hiked further to $100/kg.  This considerably impacted the cigarette prices.
Gaspar made around $80 a week but landed up spending half of his earnings on cigarettes. "It definitely pinched and became a point of daily arguments with my wife," said the father of five, adding that he also became concerned with increasing shortness of breath during his singing performances and while cycling.
UN entities involved in this initiative
WHO
World Health Organization