Story
How Remittances Transform Lives for Timorese Families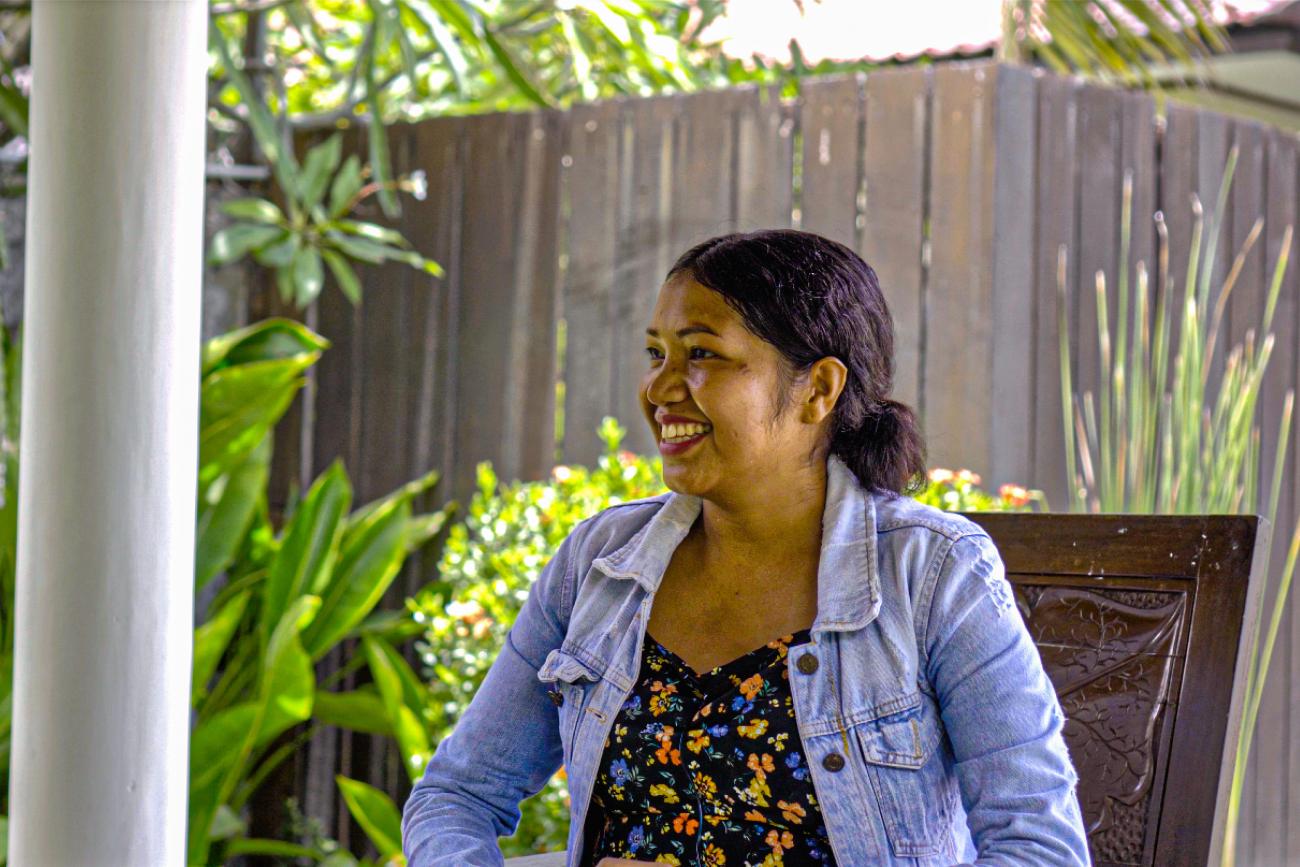 Life is never dull for Joanita, who every day must balance taking care of her children alone while working as a housekeeper.
Like many Timorese, Joanita's husband went to South Korea to be the breadwinner for the family, sending money back home regularly to support them financially. While raising children without her partner has not been easy, Joanita knows that relying on one source of income is not sufficient for her family.
"We thought we would make more money by going to work overseas," says Joanita. "Now we also need to pay off our debt, as my husband borrowed money in order to join a labour mobility programme," she says, referencing an initiative which is preparing many Timorese workers for employment in South Korea through a partnership between Timor-Leste and the Republic of Korea.
Joanita and her husband are using the remittances to pay off debt, finance her education and support their family. They have dreams of building a house of their own. Photo: IOM/Maulana Iberahim
The remittances sent to Joanita by her husband in South Korea have had a huge and positive impact on their lives, she explains. "They provide for our daily needs, including education and support to my widowed mother and relatives."
Joanita's education and pursuit of a university degree have been made possible through the impact of the money sent by her husband, covering her tuition fees and textbooks. Remittances have the power to transform and enable small families like Joanita's – not only because they provide for basic needs, but they also give hope for the future.
However, Joanita, like many others in her country, still faces difficulties in receiving the remittances. One of the issues is the high transfer fee. For a dollar-based economy such as Timor-Leste, where people live on less than USD 2.15 a day, every cent counts.
"The transfer fee is obviously quite high," says Joanita. She hopes for cheaper remittance fees and a fairer currency exchange process.
Joanita shares her concerns with IOM staff on the high transfer fees in remittance exchanges during a financial literacy session. Photo: IOM/Maulana Iberahim
While the difficulties faced by Joanita are also experienced by many others, Timor-Leste's economy continues to grow, as more people work overseas and send money back home, contributing to their families and their loved ones.
According to the Remittance Mobilization Strategy for Timor-Leste, remittance inflow to Timor-Leste more than doubled from USD 62 million in 2015 to an estimated USD 171 million in 2021. Remittances account for around 8.7 per cent of the total national income of Timor-Leste, bringing positive socioeconomic development to the oil-dependent country, which is trying to diversify its economy.
The International Organization for Migration (IOM) advocates for removing the remaining remittance barriers, such as high transfer fees and delayed transfers. Such barriers impede socioeconomic development, especially for the recipients, primarily families who often lack financial literacy and heavily rely on the money they receive from abroad.
"Our plan for the future is that, once we have paid off our debt, we will start building our house and save up for our children's education," Joanita explains.
The significance of the remittances she receives from abroad in supporting her family reflects the characteristics of remittance inflows in the country. A very significant 96 per cent of remittances sent to Timor-Leste are primarily intended for family support, indicating individualized motivations that drive these financial exchanges. However, there is untapped potential for engaging diaspora and diversifying the use of remittances, including the promotion of remittance-linked financial services, which can be invested in income-generating activities in the local community. In this way, migrants and their families can be proactive actors for sustainable development.
The role of diaspora is very important to Timor-Leste. IOM has closely participated in the development process of Timor-Leste National Diaspora Engagement Policy, which brings together Timorese diaspora communities as both an agent of socioeconomic development and ally in the advancement of Timor-Leste.
By removing the barriers that senders and recipients face in remittance exchanges, including the high transfer fees and financial access, it will incentivize increased remittance inflows that will also support the resilience of remittance-receiving families back home.
For now, remittances are a lifeline for Joanita, and many other families like hers in Timor-Leste. If the underlying issues that hinder greater remittance inflows and cost reduction are addressed, remittances can have positive spillovers for the local community, contribute to their resilience and to the attainment of the Sustainable Development Goals in Timor-Leste.
This story was written by Maulana Iberahim, IOM Timor-Leste Media and Communications. For more information, please contact: miberahim@iom.int
UN entities involved in this initiative
IOM
International Organization for Migration