Story
Empowering healthcare workers with critical care training and collaboration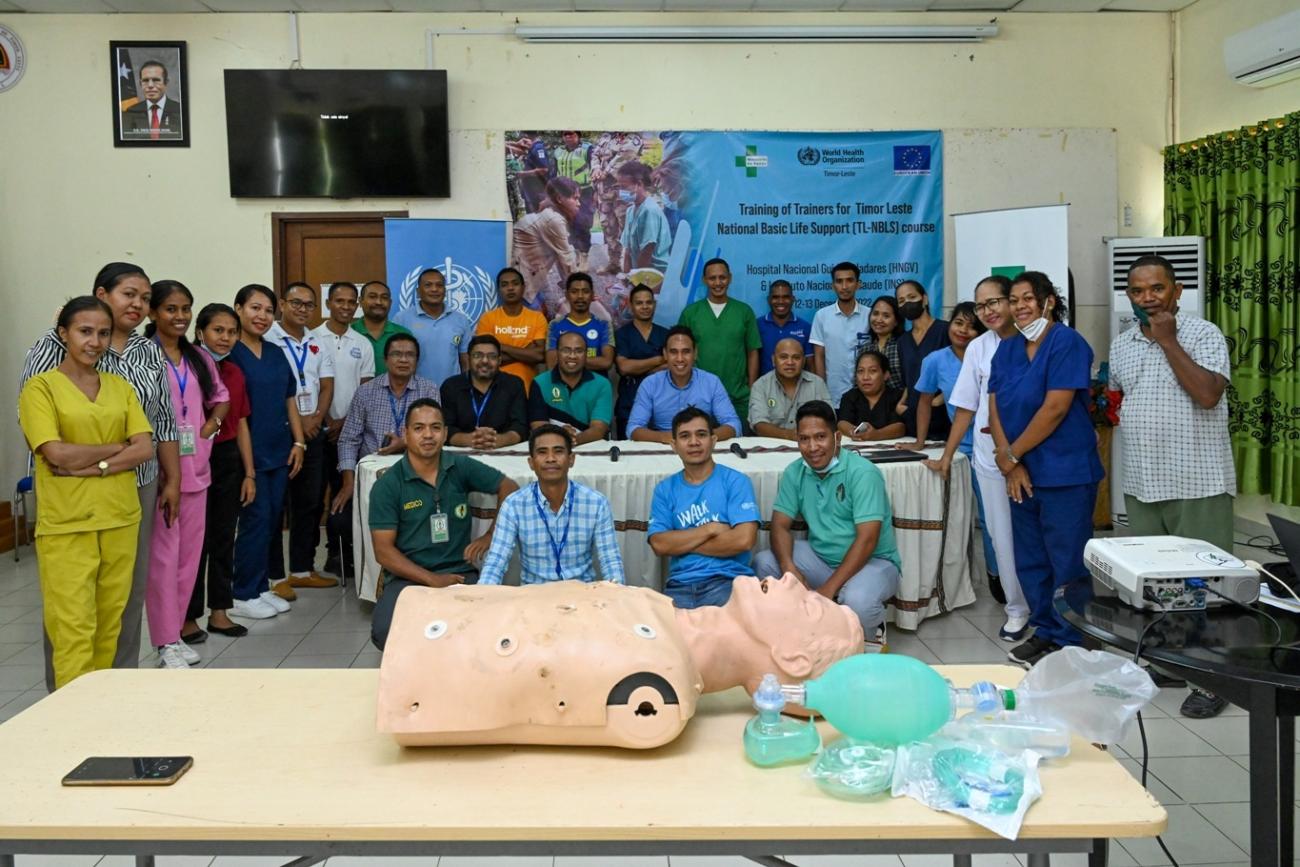 Dili: On the night of August 1, 2023, Dr. Sandra Paicheco had just started her shift at the Community Health Centre (CHC) in Ainaro, a district located around 110 km away from Timor-Leste's capital city, Dili, when she received a frantic call from a relative of a 24-year-old man who had been stabbed in the chest. The patient was brought to the CHC by a government-run ambulance service in an unconscious state and was bleeding heavily. The knife had punctured through his ribs, exposing his lung, putting him at serious risk of a potentially fatal lung collapse. However, thanks to the timely intervention of Dr. Paicheco and her team, the man's life was saved.
"The patient was unconscious but still breathing," said Dr Paicheco (27). "But it was a challenging situation since we had not encountered this level of trauma before." Dr Paicheco and her team including three nurses and one midwife assessed the patient's level of consciousness using the Glasgow Coma Scale (GCS) and started him on oxygen support and intravenous fluids.
Subsequently, she reached out to Dr Raimundo Pinheiro at the National Ambulance and Medical Emergency Service (SNAEM) in Dili for guidance. Dr Pinheiro, a master trainer for the Basic Emergency Care (BEC) training programme in Timor-Leste, noted down the patient's medical history and then guided Dr Paicheco's team through a video call to apply the three-way dressing, one step at a time.
Dr Sandra Paicheco (27), a general practitioner posted at the Community Health Centre in Ainaro. Photo: WHO Timor-Leste 
"We were able to perform the procedure only because Dr Pinheiro guided us so confidently," said Dr Paicheco, a general practitioner who graduated in 2022 and has been posted in the Ainaro CHC since March 2023.
A three-way dressing is commonly applied for open chest wounds to prevent air from entering the chest cavity, which can lead to fatal outcomes. After the three-way dressing, a chest tube is inserted to assist the patient in breathing.
In this case, soon after the three-way dressing was completed and the patient stabilized, he was transferred to the Referral Hospital in Maubisse, around 40 kms from the CHC. There, a surgeon inserted the chest tube and transferred him to the national hospital - Hospital Nacional Guido Valadares (HNGV) - in Dili for observation. Doctors at the national hospital commended the timely and precise application of the three-way dressing, which saved the patient's life.
STRENGTHENING CAPACITIES THROUGH EMERGENCY AND CRITICAL CARE TRAINING
Timor-Leste, Asia's youngest nation with a population of approximately 1.3 million, has a fragile public health system. However, the COVID-19 pandemic presented an opportunity to strengthen it. Prior to the pandemic, the country had only six Intensive Care Unit (ICU) beds with ventilators – and all in the national hospital in Dili. During the pandemic, the Ministry of Health with support from WHO and other partners established High Dependency Units (HDUs) in each of the country's five Referral Hospitals. These HDU's were equipped with essential airway breathing devices, multipara monitors, invasive and non-invasive ventilators, and other critical care equipment.
For the HDU's to function optimally, training the healthcare providers was essential. WHO provided technical assistance to develop the Emergency and Critical Care (EmCrit) programme to strengthen the skills of the staff already working in the emergency and critical care area. WHO also provided technical support to develop Basic Life Support (BLS)and Basic Emergency Care (BEC) courses tailored to the country's context.
To date, more than 400 healthcare workers including doctors, paramedics and nursing staff, have undergone BLS training. EmCrit Continuous Professional Development (CPD) training was implemented for emergency care personnel, with over 47 individuals trained so far. The BEC module was extended to HDU and ICU staff, with over 40 healthcare workers trained and 17 designated as master trainers.
Dr Pinheiro, who guided the Ainaro CHC team in the application of the three-way dressing via video call, is one of the 17 master trainers.
The series of trainings have improved communication between healthcare providers in Timor-Leste's national and referral hospitals and the CHCs. "We are witnessing more doctors from the districts reaching out with queries and seeking assistance in treating their patients," said Dr Columbianus da Silva, an anesthesiologist at the national hospital and one of the BEC master trainers. "These doctors are getting better at identifying red flags for health emergencies and are also more comfortable with the terminology used for patient management and referrals," he added.
Last year, doctors at Referral Hospital in Suai, located about 175 km from Dili, accurately diagnosed a heart attack with the help of an ECG and the symptoms, administered a blood thinner and stabilized the patient before transferring to the national hospital. This had not been possible in Referral Hospitals previously. In another Timor-Leste district, Maliana, doctors have successfully managed at least two high risk pregnancy cases with mechanical ventilation, saving both the mothers and babies.
"It is encouraging to hear such accounts about life saving interventions at the Referrals Hospitals and the CHCs," said Dr Arvind Mathur, WHO Representative to Timor-Leste. "WHO, in collaboration with the Ministry of Health, continues training healthcare workers by bringing international expertise and working to develop a sustainable capacity building system. To achieve this, WHO is also supporting the MoH in establishing simulation-based skills centres for training healthcare workers and medical students for emergency procedures," he said. 
UN entities involved in this initiative
WHO
World Health Organization