Press Release
Timor-Leste's first state of art simulation skills centre opens in Baucau
14 October 2023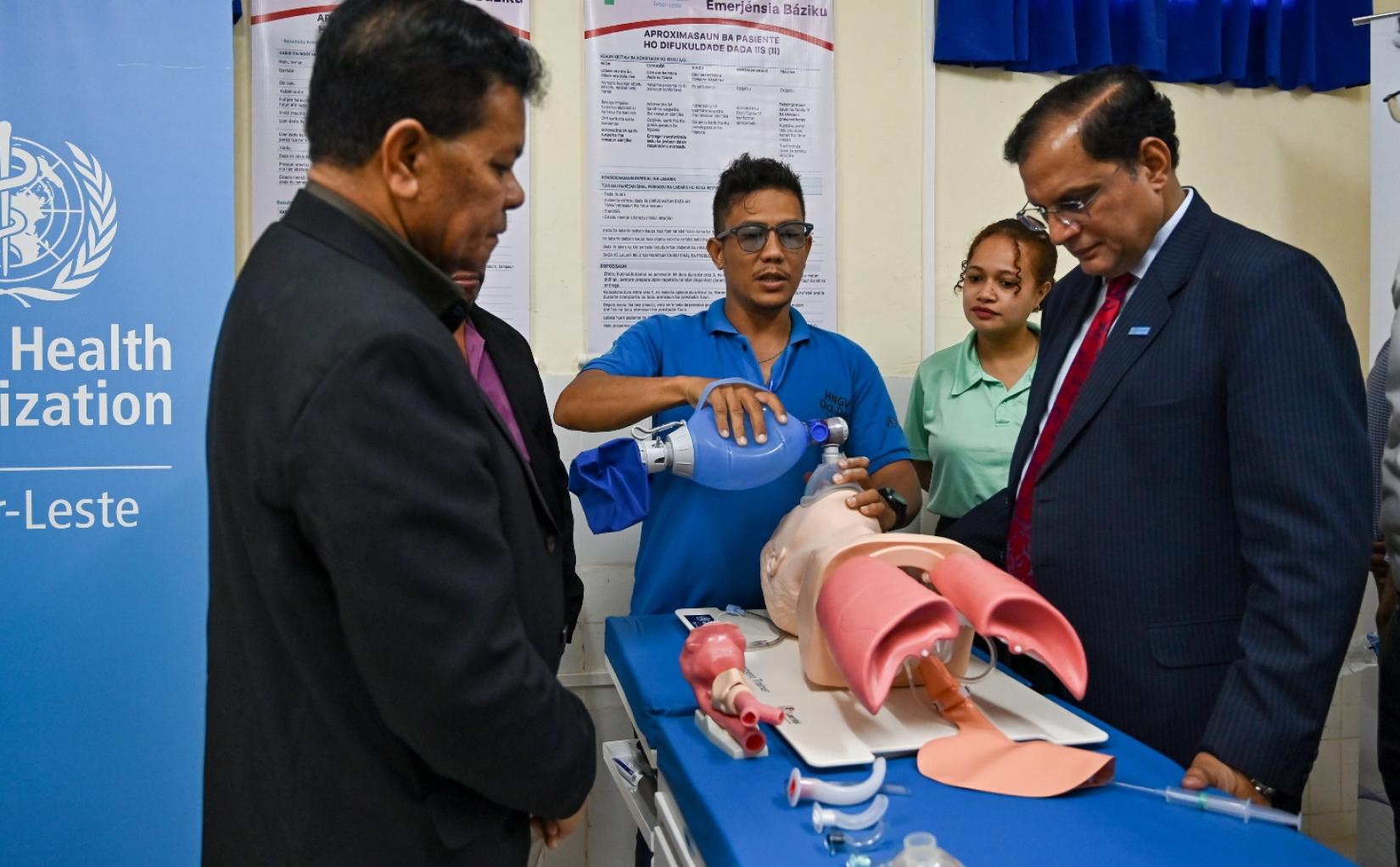 Baucau, October 14 - The Ministry of Health in collaboration with the World Health Organization inaugurated the state of art Simulation Skills Centre at the Trilolo Hospital in Baucau on Saturday. This is country first simulation skills centre that will help strengthening medical and nursing education and has been envisioned to evolve into a healthcare professional development hub.
In addition to the simulation skills centre in Baucau, three more centres will come up in Dili, and one each at the referral hospitals at Maubesse, Maliana, Suai and Oecussi.
Traditional medical and nursing education has relied heavily on training with real patients in clinical settings, where mistakes can pose a significant concern for patient safety. Simulation skills centres offer safe practice place for students and professionals by bridging the gap between classroom instruction and real clinical practice, while reducing the risks associated with learning on real patients.
Simulation is highly effective for developing skills in procedures requiring eye-hand coordination and ambidextrous (two-handed) maneuvers, helping learners prepare for unexpected medical events. Healthcare simulations serve four primary purposes: education, assessment, research, and integration into the healthcare system, ultimately enhancing patient safety.
Mr. José dos Reis Magno, Vice Health Minister of Timor-Leste thanked WHO for the continuous support to the Ministry of Health. "This facility is crucial for strengthening the health sector in Timor-Leste and reducing overall morbidity and mortality in the country," he said during the inauguration event.
Timor-Leste currently faces a shortage of skilled and competent human resources, with only 25 healthcare professionals per 10,000 population, significantly below the global Human Resources for Health (HRH) strategy goal of 44.5 per 10,000. The competency and confidence in critical care and emergency management is also limited. The establishment of simulation skills centers will result in improved quality health services for more than 1.3 million people, bringing Timor-Leste closer to achieving its goal of comprehensive, equitable, and accessible healthcare services.
"Simulation facilities are a vital component in advancing healthcare education, ensuring professionals are well-prepared for the challenges they may encounter," said Dr Arvind Mathur, WHO Representative to Timor-Leste. "By launching this center and expanding the concept to other locations, we are taking a substantial step toward improving healthcare delivery and patient safety in Timor-Leste," he said.
For more information, contact:
Jyoti Shelar, Communications Consultant, WHO: [email protected]; +67077728051
UN entities involved in this initiative
WHO
World Health Organization