UN Timor-Leste Country Team Bids Farewell to WHO Representative Dr Rajesh Pandav
UN Resident Coordinator Roy Trivedy together with UNCT bids farewell to WHO Representative Dr Rajesh Pandav after a successful nine years in Timor-Leste.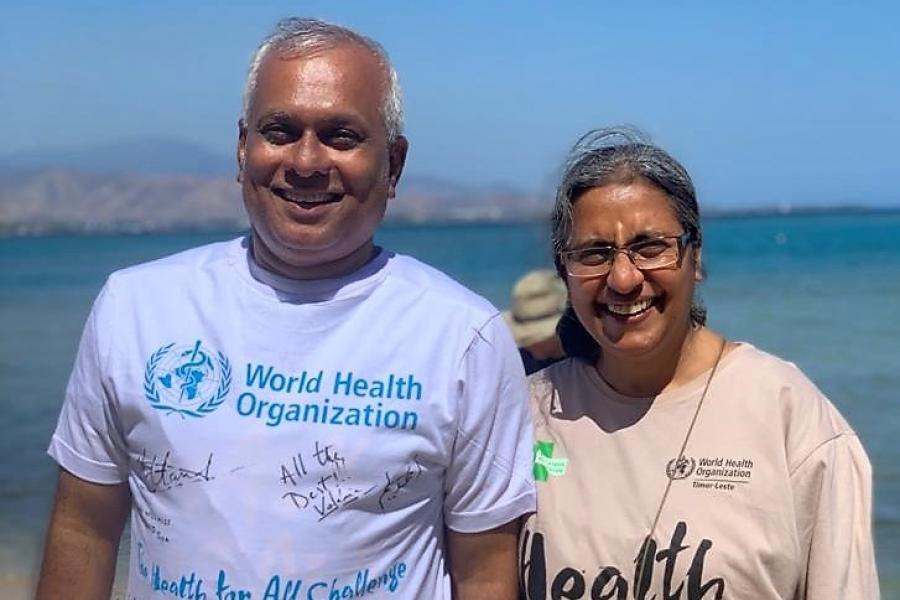 Photo | UN Timor-Leste
With a very heavy heart, we bid Dr Rajesh Pandav adieu. We wish him all the success in his new assignment in Nepal. 
As he takes charge in his new duty station, we in Timor-Leste will forever cherish and look up to his leadership, camaraderie and his dynamism, which was equally admired by the people of the country and Government of Timor-Leste. We wish him the very best! 
Rajesh has made significant contributions to the UN achievements in Timor-Leste over the past nine years. Through WHO programmes, coordination, technical support, and interventions and partnerships with several stakeholders, he has - either directly or indirectly - influenced the lives of innumerable in the country.
I have no doubt whatsoever that many colleagues have benefited from his vast knowledge, professional expertise, cultural sensitivity, networks, words of wisdom and guidance to overcome challenges and make progress as well as contributions within the UN family as well as in the country.   
At this stage, and on behalf of all of us, I wish Rajesh the very best of peace and success in his future endeavours.
Thank you
UN entities involved in this initiative
FAO
Food and Agriculture Organization of the United Nations
ILO
International Labor Organization
IOM
International Organization for Migration
OHCHR
Office of the United Nations High Commissioner for Human Rights
UN Women
United Nations Entity for Gender Equality and the Empowerment of Women
UNDP
United Nations Development Programme
UNEP
United Nations Environment Programme
UNESCO
United Nations Educational, Scientific and Cultural Organization
UNFPA
United Nations Population Fund
UNICEF
United Nations Children's Fund
UNIDO
United Nations Industrial Development Organization
UNODC
United Nations Office on Drugs and Crime
UNOPS
United Nations Office for Project Services
UNV
United Nations Volunteers
WHO
World Health Organization