United Nations Sustainable Development Cooperation Framework (UNSDCF), Timor-Leste
Almost 20 years since the Popular Consultation that led to the restoration of independence in the country in 2002, Timor-Leste has made significant progress. With a continued show of resilience and resolve, it has demonstrated strong commitment to reconciliation and reconstruction, as well as to human rights and democracy.
As the country's primary vehicle for achieving the Sustainable Development Goals (SDGs), the Strategic Development Plan (SDP) 2011–2030 outlines Timor-Leste's ambition to transition from a least developed country to an upper-middle-income country by 2030. Despite important gains made over the past two decades, however, Timor-Leste's progress towards the SDGs requires consolidation and rapid acceleration. Poverty levels remain high in all their dimensions, and inequality in accessing quality services and opportunities continues to be a challenge. Rural communities, women, early adolescent girls and boys, children under five years old and persons with disabilities are the most vulnerable to exclusion and marginalization.
The UN believes that the actions taken in the next five years will shape the country's development achievement in 2030. In response to demands from stakeholders for more strategic, transformative and integrated UN support, UN Timor-Leste has developed the UN Sustainable Development Cooperation Framework 2021–2025 (UNSDCF) through a consultative and participatory process involving the Government, civil society and development partners.
The UNSDCF is a centrepiece of the UN development system reform in Timor-Leste. It represents UN Timor-Leste's collective value proposition to support and accelerate the country's progress towards achieving the SDGs and its national development priorities.
In the coming five years, UN Timor-Leste will focus on:
• Building human capital, starting from the very early years and taking a life-cycle approach, particularly for those most at risk of behind left behind, through strategic investments in systems and institutions;
• Frontloading catalytic support that contributes towards economic diversification and economic transformation;
• Addressing the root causes of climate, conflict and other risks; and
• Establishing the preconditions for a peaceful, inclusive and resilient society.
Specifically, the UN will support national efforts across six strategic priority areas, to ensure that, by 2025:
1.Nutrition, food security and agricultural productivity have improved for all, irrespective of individual ability, gender, age, socio-economic status and geographical location.
2.People throughout Timor-Leste in all their diversity, especially women and youth, benefit from sustainable economic opportunities and decent work.
3.All the people of Timor-Leste, particularly excluded and disadvantaged groups, have increased access to quality formal and innovative learning pathways (from early childhood though life-long learning) and acquire foundational, transferable, digital and job-specific skills.
4.The people of Timor-Leste increasingly demand and have access to gender-responsive, equitable, highquality, resilient and inclusive primary health care and strengthened social protection, including in times of emergencies.
5.The people of Timor-Leste, especially the most excluded, are empowered to claim their rights, including freedom from violence, through accessible, accountable and gender-responsive governance systems, institutions and services at national and sub-national levels.
6.National and sub-national institutions and communities (particularly at-risk populations including women and children) in Timor-Leste are better able to manage natural resources and achieve enhanced resilience to impacts of climate change, natural and human-induced hazards and environmental degradation, inclusively and sustainably. 
It will be possible to achieve these outcomes only through close partnership with the Government and other key stakeholders. The UN intends to maximize all its human, financial and other resources to help achieve the UNSDCF outcomes.
The UNSDCF represents UN Timor-Leste's commitment to the Government and people of Timor-Leste. To measure progress, under each strategic priority, measurable indicators have been identified to accelerate progress towards achieving the SDGs. The UNSDCF intends to contribute to 67 out of the 169 global SDG targets across 15 SDGs. Key development indicators covered by the six priority areas include prevalence of undernourishment; gross domestic product per employed person per sector; proportion of children aged under five years developmentally on track in terms of health; proportion of births attended by skilled health personnel; proportions of different groups in positions in national and local institutions, including legislatures and the judiciary; and direct economic loss, damage to critical infrastructure and number of disruptions to basic services, attributed to disasters.
As a nationally owned instrument for planning, implementation, monitoring, evaluation and reporting of UN activities in Timor-Leste, the UNSDCF is founded on the spirit of continued strong partnership with the Government of Timor-Leste as well as with civil society, academia, the private sector and other development partners.
The UN believes that together we can achieve the transformation required that will enable the girls, boys, women and men of Timor-Leste to realize their full potential and contribute to a strong and prosperous TimorLeste that leaves no one behind.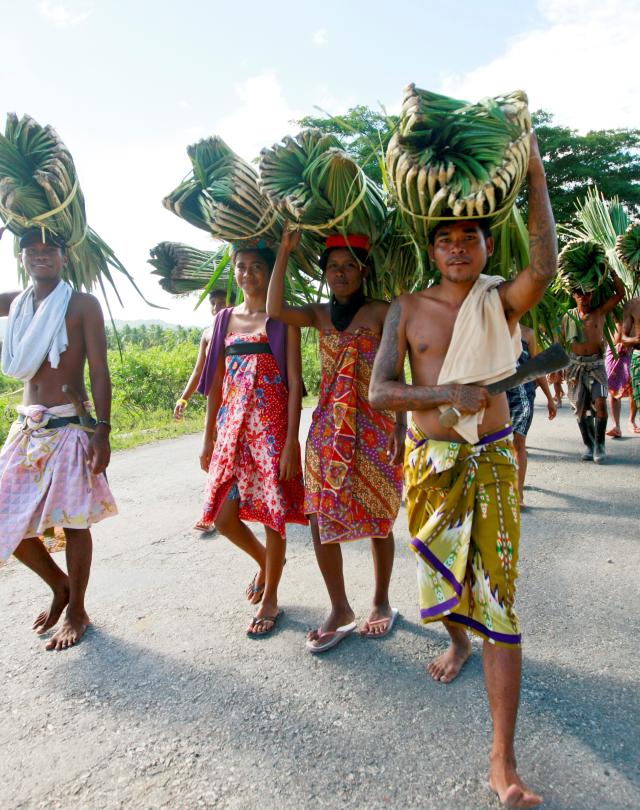 Goals we are supporting through this initiative