Joint COVID19 Response Newsletter July 2020
The COVID-19 pandemic continues to accelerate with nearly 15 million cases and 600 000 deaths reported worldwide. Everyone is at risk, and everyone has a role to play in fighting this pandemic. In Timor-Leste, it is vital for all of us to equip ourselves with the right information and use it to assess risks and make the best decisions to protect ourselves and others.
The United Nations Country Team, with support from other development partners, is supporting the Government and people in Timor-Leste on a three-pronged response: (1) delivery of coordinated and comprehensive health response guided by the WHO; (2) adoption of policies that address the devastating socio-economic, humanitarian, gender and human rights impacts of the pandemic; and (3) a recovery process that builds back better, leading to a more inclusive, more resilient and sustainable economy and society. The UN, so far, has to date mobilized USD $17.6 million for the COVID-19 response in addition to over USD $2.2 million worth of reprogramming.
With support from many partners, the United Nations system is working with the Government and communities by saving lives, controlling transmissions and easing the social and economic consequences of the pandemic. As of July 2020, we have supported Government's Economic Recovery Plan through dialogue led by the Resident Coordinator with Government Ministers; transported in 1,855 kg of humanitarian cargo through 4 WFP chartered flights from KUL-DIL-KUL since June 14, 2020; assisted the Government in completing the COVID-19 social cash transfer programme that supported more than 299,000 households; supported the on-going Back to School Campaign; completed data collection as part of a joint UN Socio-Economic Impact Assessment (SEIA); and are helping the government to collect data for the Timor-Leste Food Security & Nutrition Survey (TLFNS) 2020.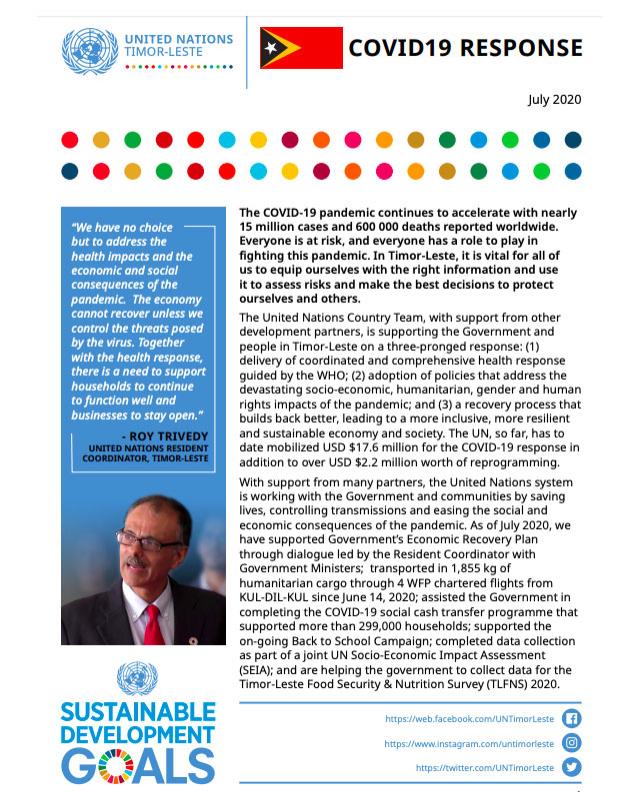 Goals we are supporting through this initiative